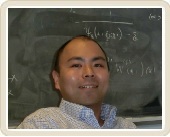 Research interest:

- Statistical inference for stochastic processes; asymptotic statistics.

- Insurance and financial mathematics, and their related statistical issues.

- Risk theory, Gerber-Shiu analysis.
*****
My interest is the statistical analysis for stochastic processes like diffusion processes, Lévy processes, renewal-type processes, etc, appearing in the fields of Insurance and Finance. In particular, the risk theory in insurance mathematics is a main interest in these days. I am also interested in risk measures, credit risks, mortality modeling using jump processes, and credibility theory.